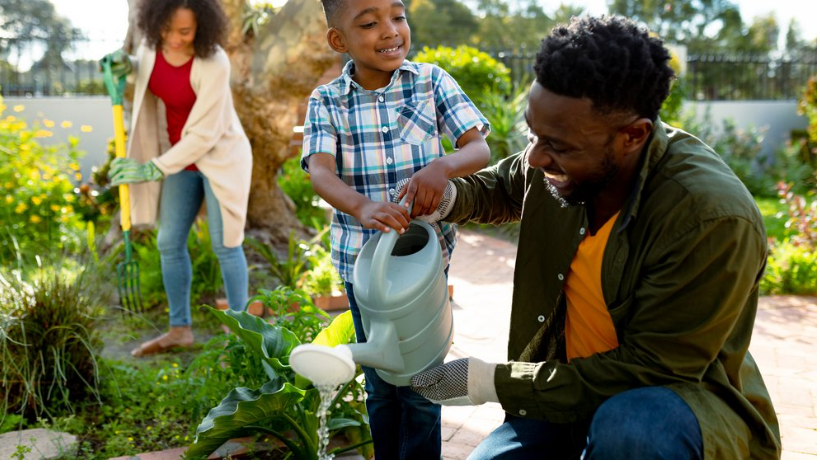 We've all heard about the importance of eating a balanced diet and exercising regularly. But how do you get your family on board? Here are some creative ideas. 
Brush up on your nutrition knowledge. The U.S. Department of Agriculture offers educational resources on nutrition by life stage, including quizzes to test your knowledge. For example, this Toddler Nutrition Quiz can help you learn about toddlers' nutritional needs and how to safely prepare foods.
Plan an outing to a mini golf course, skating rink, hiking trail or public pool.
Build an obstacle course in your backyard. This YouTube video offers simple DIY obstacle course ideas. The best part? All of the materials can be purchased at a dollar store!
Sign up for a cooking class. Learning to cook together teaches your kids an invaluable life skill. It's also a way to educate them about food safety, sanitation and nutrition.
Have a water balloon fight. This is a cheap and effective way to cool off if you don't have access to a pool.
Take a nature walk. If you have young children, you can keep them engaged by sending them on a scavenger hunt.
Paint, draw or work on a puzzle together. Remember, mental health is important, too.
Have a yoga session. This article describes some simple yoga poses for beginners.
Wash your car together. You can check off an item on your to-do list while keeping the kids active and entertained.
Plant a garden. According to a study published in the Journal of the Academy of Nutrition and Dietetics, children eat more fruits and vegetables when they're involved in gardening.
When it comes to family health and fitness, you don't have to go out of your way to live better. Small, incremental changes are the best way to stay on track. 
This content is for informational purposes only and not for the purpose of providing professional, financial, medical or legal advice. You should contact your licensed professional to obtain advice with respect to any particular issue or problem.
Copyright © 2023 Applied Systems, Inc. All rights reserved.