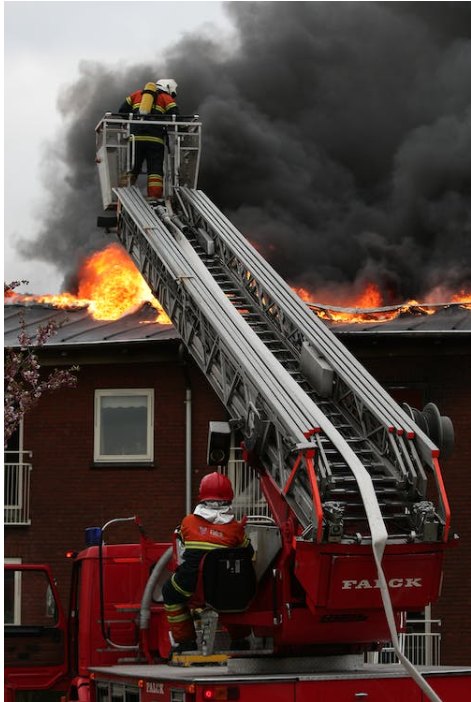 If your home catches fire – even if it's a small fire – you may have less than two or three minutes to get everyone out safely. Smoke can make it hard to see while the fire quickly spreads. Your family needs to have a fire escape plan, and know it inside and out, so that if an emergency happens, everyone is prepared.
Follow these tips when making your escape plan to ensure everyone knows what to do and where to go in case of a fire.
Give yourself plenty of warning
Smoke detector alarms provide the warning you need to move fast. According to the National Fire Protection Association (NFPA), an organization focused on fire safety and awareness, smoke alarms should be installed in several areas throughout the home, including:
At stairways including the bottom of a staircase leading from your basement and the top of the stairs leading from the first floor to the second floor
In each bedroom or sleeping area
On every level of the home
Outside each bedroom or sleeping area
NFPA recommends keeping alarms at least ten feet away from appliances
Two types of smoke alarms are available – ionization and photoelectric. Ionization alarms can detect invisible particles from flaming fires. Photoelectric alarms are better at detecting bigger fire particles from a slow, smoldering fire. For maximum safety, you might consider having both types installed.
Ideally, each smoke alarm should be interconnected so that if a smoke alarm goes off in the family room, it goes off in your bedroom, too. This can help you wake up from sleep even if the fire isn't close by.
Find two exits from every room
You should talk about the exits from every room with each member of your family. Hallways and doorways may be blocked, so you'll need to talk about other ways to get out.
If you have young children, looking at a floor plan of your home may help them understand where to go – they can even help you create the floor plan. Mark the exits on the plan so they can see clearly where they are. You can hang a copy of a map in their room or on the fridge.
Remember that windows may also be exits. If a window is on an upper floor, consider putting a fire ladder near the window in case of an emergency.
Make sure exits are clear
Next, you'll need to ensure it's easy for all members of your household to escape via their planned exits. You should double-check that:
Windows and/or screens open easily
Children or elderly members of the house can open doors and windows they need to open
No windows are blocked by furniture
If you have very young children, elderly household members or members of the family who have mobility issues, you need to make sure their exit path is clear and designate another family member to help them escape.
Make an outside plan
Once you escape your home, you need a designated meeting spot for the whole family. It might be a neighbor's mailbox, a light post or any other easy-to-remember marker that is at least a little ways away from your home. You should call the fire department immediately after exiting your home. If you didn't grab a cellphone on the way out, make the call from a neighbor's house.
Under no circumstances should any member of the family go back into the home for any reason. If someone is missing and may still be in the home, you should tell the dispatcher who answers your call. The fire department can go into the house for a rescue more safely than you can.
Practice makes perfect
Finally, put your plan into action. Run fire drills at least twice a year to ensure everyone remembers what to do and that your plan still works for your family. If you have young children, don't run a surprise fire drill at night as it may frighten them. Give them a warning so they can learn and remember more effectively.
As you practice, shut doors behind you. Closing doors can help block airflow to the fire and slow it down.
With any luck, you'll never have to use a fire escape plan. But if you need it, you'll be ready to go and prepared to keep your family safe.
If you have additional concerns about your home's safety or insurance coverage in the event of a fire, reach out to your insurance professional to discuss ways you can best prepare for the unexpected.
This content is for informational purposes only and not for the purpose of providing professional, financial, medical or legal advice. You should contact your licensed professional to obtain advice with respect to any particular issue or problem.
Copyright © 2019 Applied Systems, Inc. All rights reserved.