You may have heard that the week of May 13th to the 19th is Police Week. This week was proclaimed by President Kennedy in 1962. Police Week was set to honor the brave men and woman who take on the brave task of keeping the community safe.
Do know someone close to you that serves? If you do, you know that the job is one that only the strongest can take on. The recruiting process only takes on the exceptional ones who have the utmost honesty, unwavering bravery, and level of unwillingness to quit on the ones that need them most.
Cecil County has multiple departments with squads of well trained officers that serve us everyday!
Get to know one of your Maryland first responder's. Keep reading:
I had the opportunity to interview one of our very own K-9 Deputies at the Cecil County Sheriff's Office! Senior Deputy First Class Michael Thomas has been serving with the department for 10 years.
Among all the specialized units, the K-9 unit may be one of the most interesting!
To start…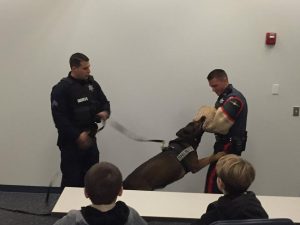 The use of K-9's in the United States was first seen in 1907.  Our furry friends have a skill set that well surpasses what humans are capable of.
Contrary to public belief, there is a long list of breeds that are used in the K-9 Unit's across the United States that include Blood Hounds, German Short-haired Pinschers, Giant Schnautzers, Labrador Retrievers, and Rottweilers.
A K-9's unique set of skills are invaluable to the Cecil County Sheriffs Office.
Did you know that…
A K-9's  scent is 10,000 times stronger then ours.
A properly trained police dog can save 600 to 1,000 man-hours every year.
A K-9 can smell a human buried up to 12 feet underground.
These skills assist our Maryland law enforcement everyday in the detection of narcotics, tracking missing people, pin pointing explosives, and more!
Deputy Thomas and his K-9 Roscoe help protect Cecil County with their specialized set of skills that take patience and dedication to master. Get to know our local heroes and what they have done in our community!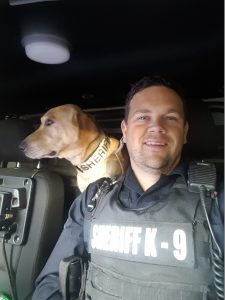 1. What made you decide to become a law enforcement officer?
"It started with my great uncle in Kentucky that was in law enforcement.  When I was a kid I used to listen to his stories and think how cool it would be to do that.  It was just what I wanted to do when I finished school.  I was the kid that would watch Cops all the time.  I thought it was cool."
2. Why did you decide to transition into the K-9 unit?
"If you had asked me when I started my career 'where do you want to be in 5 years?' My answer would have been that I wanted to be a detective or investigator.  But, early on I realized just how much time they spend behind a computer and not out on the streets.  That made me change my views a bit, as in I wanted to stay out on the road for a while longer and later on  if I had the opportunity I would do the investigating thing.  Then a posting came out asking who was interested in K-9 and of course I put in for it, who wouldn't want to ride around with a dog all day and do K-9 things."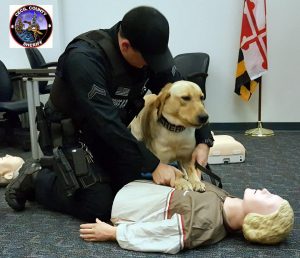 3. How did you choose your K-9 partner? What qualifications were you looking for?
"Roscoe was donated to the Sheriff's Office by a citizen/business owner of Cecil County that was a victim of a crime.  He said that rather than complaining about the problem, he wanted to do something about it.  So, the ones in charge of the K-9 unit at the time went up and tested Roscoe to see if he had a toy drive.  I was not involved in choosing Roscoe and the first time I met him was when I was picking him up about 2 weeks before we started our narcotics scent school together."
4. What has been your biggest obstacle while working in the K-9 unit?
"By far it's keeping the K-9 car clean and Hair off of everything.  Hair is everywhere, even after brushing him.  Other than that it really is a fun job."
5. What has been your biggest reward while being a K-9 officer?
"Trying to put a dent in the drug world in Cecil County and put on demonstrations for the community.  Since Roscoe is not trained to apprehend suspects (biting) he has become the friendly dog of the
agency, and during our demonstrations people get the opportunity to pet him and ask questions.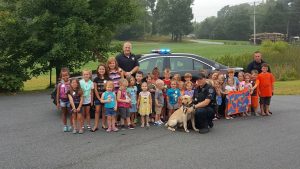 We have also done Shop With a Cop for a few years (we missed last year) and I can let the kids pet him and hug on him.  You can check out the Cecil County Sheriff's Office K9 Team Facebook page for plenty of pictures of Roscoe at demonstrations."
See more on the CCSO Facebook here!
6. Tell us a few facts about your K-9 partner:
       Roscoe will be 4, March of this year.
       He is a Yellow Lab or as my colleagues say "Just a Lab".
       Roscoe located over 3,000 bags of heroin on a car stop.
       He located over $65,000 in US Currency on a stop on I-95.
       He is very good at his job.
       Roscoe loves to swim in dirty water and ponds (he doesn't like pools).
       He can be jealous of other animals that he sees outside of the car while he is in it.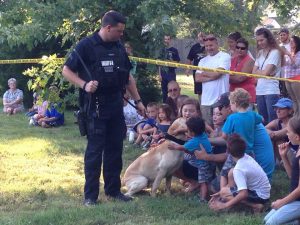 We discovered during K-9 Training that Roscoe knew how to track and was a natural, he has since been certified in tracking and we had since found a Suicidal subject that went into the woods with a bottle of pills to overdose.
He loves kids and likes to lick faces.
Children want to grow up to be what resembles a hero in their eyes. It is no surprise that law enforcement is one of the professions that many children dream about becoming. S/DFC Michael Thomas and his partner Roscoe show what it means to be heroes leading by example.
Safetyville 2018
Safetyville is hosted by Cecil County Department of Parks and Recreation along side  The Cecil County Sheriff's Office, and Elkton Police Department. Together they teach young children valuable safety lessons and awareness through hands on activities. For more information and openings, visit their Facebook!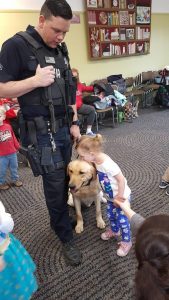 What characteristics come to mind when you think of a police officer?
The first few words that come to my mind when I ask myself this question is honesty, courage, intelligence, and selflessness. Perhaps one of the most common traits among all law enforcement is the level of integrity they are held to by themselves, and society.
Thank one of our local heroes for their service next time you see them!