There will be over 41 million trick or treaters between the ages of 5 and 14 out on Halloween night in the United States, according to the United States Census Bureau.
That is a lot of candy!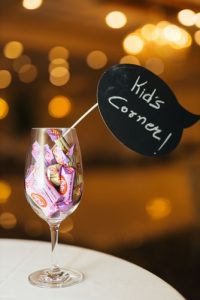 While we all look forward to Halloween, being out in the dark can pose risks! It is important to prepare your children so everyone is safe.
There are so many Halloween celebrations throughout Cecil County that you probably have not heard about. The best part? The majority of them are geared toward providing a safe environment for children.
We know it is so easy to get swept up in all the Halloween fun! Take a few minutes to consider the hazards while trick or treating with your children. While you are at it, read our three tips for a fun and safe Halloween night!
Motorists! Watch out for "lions, and tigers, and bears" oh my!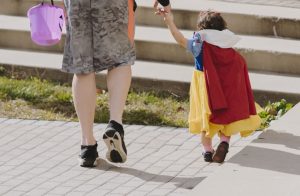 One of the best things about Cecil County is all the open space! Most homes have property, but many neighborhoods do not have sidewalks. Walking on the shoulder of these roads at night can pose risks.
Motorists! Be sure to take your time Halloween night. There will be trick or treaters running from house to house collecting as much candy as possible. Take the extra precaution and keep an eye out for the witches and Marvel heroes crossing the street!
Parents! Consider taking your children another route this year. These events will give your children a safe place to enjoy candy and so much more.
2019 Maryland Halloween Events:
Elkton's Annual Halloween Parade:
The Parade will begin at 7 PM as usual. Immediately Following the Parade there will be doing trick or treating down Main Street instead of the refreshments given back in the parking lot. There will be snacks given out at stations on Main Street.
This wonderful event started a few years back and is hosted every Halloween night! It begins at 5:30 with a pumpkin carving contest and ends with trick or treating at the local shops at 8:00 pm. The town will be set up specifically for trick or treaters and offers a safe environment for children.
Day of the Dead Trunk or Treat:
Trunk or treats are a great way to keep families in one safe space and are ideal for younger children. This event will take place on October 26 from 11 am -1 pm at Elkton High School. They will have a DJ, CCPL Book Mobile, fire trucks, and Waffle n' Joe Food Truck.
This is event is hosted in Perryville on October 26 from 4-6 pm. Children will go around to each decorated trunk and get candy. Games will be available, "pumpkin" chunkin, donut bobbin, rock paper scissors and more, cart riding, scarecrow making and bouncy house with slide. Food will be available for free. Get your picture taken at our photo booth with photo props. Bags will be handed out for all your goodies. Vote on your favorite trunk!
Homeowners-Clear the path to the door… even for the floating ghosts.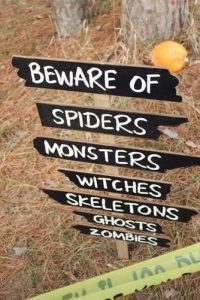 Protect your homeowner's insurance by protecting the trick or treaters on your property!
On Halloween night, there will be children and parents alike entering your property at sunset. With the lack of light, it can cause a hazard if there is not a clear path to the door.
We recommend moving stray debris both on the ground and above that someone walking through is exposed to. It can be helpful to make the path more visible with additional light. These steps can take five minutes but make Halloween night more enjoyable for you and the goblins walking to your door!
So your little pumpkin is ready to leave the patch?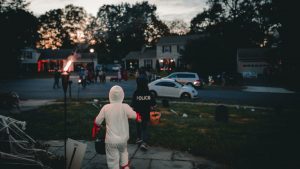 Many children hit an age where they are looking for independence Halloween night! They want to go trick or treating with their friend's alone for the first time.
While this is a great first step toward independence, it is important to create a plan with them to ensure their safety!
Know the route. Cover where they are going and what time they will be home.
Know who they are going with. Make a list of friends they are going with as well as their parent's numbers in case you cannot reach your child at any point. Perhaps create a check-in time halfway through the night.
Discuss the dangers. Let your child know your concerns going out alone. It may help to cover the basic safety tips (talking to strangers, crossing the street, ect.) as a simple reminder.
Halloween is a holiday to be whoever you want to be, eat all the treats, and have fun! Look into all the fun events Cecil County has to offer leading up to Halloween night. It may be the year you create a new tradition with your family!
Call us for any other tips or ideas on how to stay safe this year!
(410) 398-1373